A left ventricular assist device (VAD — also called ventricular assist system or VAS) is a type of mechanical circulatory support device (MCSD). It is a mechanical pump that is implanted in patients who have heart failure to help the heart's weakened left ventricle (major pumping chamber of the heart) pump blood throughout the body.
The LVAD Can Be Used Two Ways:
Bridge-to-transplant— which means it can help a patient survive until a donor heart becomes available for transplant. This option may be appropriate for people whose medical therapy has failed and who are hospitalized with end-stage systolic heart failure. As a bridge-to-transplant, the LVAD allows the patient to be discharged to an outpatient setting while waiting for transplant.
Destination therapy— an alternative to heart transplant. Destination therapy provides long-term support in patients who are not candidates for transplant.
The LVAD may provide blood pressure support; maintain or improve other organ function by improving blood flow to the kidneys, liver, brain and other organs; and when used as destination therapy or bridge-to-transplant, improve the patient's strength and ability to participate in activities such as cardiac rehabilitation; and allow the patient to be discharged from the hospital.
How Does LVAD Work?
A LVAD does not replace the heart.  The Left Ventricular Assist Device (LVAD) receives blood from the left ventricle and delivers it to the aorta. It assists the patient's own heart to pump blood throughout the body, decreasing the work of the left ventricle.
Components of VAD
There are a few different types of LVADs available. The type of VAD selected will depend on each patient's individual needs and medical condition. The components of the VAD vary, according to the specific device used. In general, the device consists of an implanted pump unit, a controller, and an energy or power supply.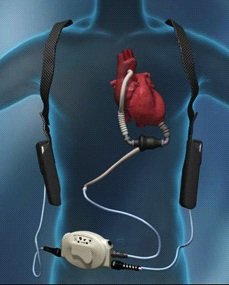 Candidates For LVAD:
An LVAD is a treatment option for certain patients with end-stage heart failure. Your doctor will determine if a VAD is an appropriate treatment for you, based on your medical condition, symptoms, age, body size and presence of other medical conditions.
An LVAD may not be the appropriate treatment choice for some patients who have blood clotting disorders, irreversible kidney failure, severe liver disease, severe lung disease, or infections that cannot be treated with antibiotics.
Risks of the LVAD implantation procedure:
As with any surgical procedure, there are risks to the VAD implantation procedure. Some of the possible risks include bleeding, development of blood clots, respiratory failure, kidney failure, stroke, infection and device failure. Special precautions are taken to decrease these risks.