A thoracic aortic aneurysm, an abnormal bulge in a weakened wall of the aorta in the chest area, can cause a variety of symptoms and often life-threatening complications. Due to the serious risks it presents, timely diagnosis and treatment of a thoracic aneurysm are critical.
What is the best treatment for a thoracic aortic aneurysm?
The decision on how to best treat a thoracic aneurysm or the aorta depends on its size and rate of its growth, location and your overall health. The risk of rupture increases when the aneurysm is larger than about twice the normal diameter of a healthy aorta blood vessel.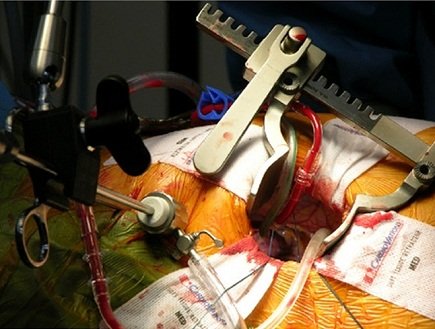 Medical Management
If a thoracic aneurysm is small and causes no symptoms, your physician may recommend "watchful waiting," which includes:
Close monitoring of the aneurysm with CT or MRI scans every 6 months.
Blood pressure medication to control high blood pressure, and decrease pressure on the weakened area of the aneurysm.
Restriction of some physical activities. Heavy lifting should be avoided as increased pressure on the aorta, may put an aneurysm at risk of rupture.
Surgery
The decision to treat a thoracic aneurysm with surgery is determined by many factors, including:
If the symptoms include chest, back pain, pain in the jaw, neck and upper back.
If the aneurysm is growing more than 1 (cm) centimeter per year.
Signs of an aortic dissection, including sudden, severe sharp tearing pain in the chest or back.
The age of the patient and the patient's overall medical condition.
New evidence has shown that the size of the aneurysm in addition to a patient's height plays an important role in the decision for surgery. While 5 centimetres is the size most aneurysms are considered for surgery, Cleveland Clinic surgeons have compiled years of experience and published studies to find that a patient's height and their aneurysm's size strongly correlates with the need for surgery.
Due to highly individualized characteristics guiding the decision for surgery, it is best that a physician regularly monitors patient's thoracic aneurysm.
How Is A Thoracic Aneurysm Treated With Surgery
The current standard surgical treatment of a thoracic aortic aneurysm is the open-chest approach. The main purpose of open-chest surgery to treat a thoracic aneurysm is to replace the weakened portion of the aorta with a fabric tube, called a graft.
Repairing a thoracic aneurysm is surgically complicated and requires an experienced thoracic surgical team. However, neglecting the aneurysm presents a higher risk.
At Max Healthcare we have a dedicated team lead by Dr. Ritwick who has performed these procedures with results similar to international standards.